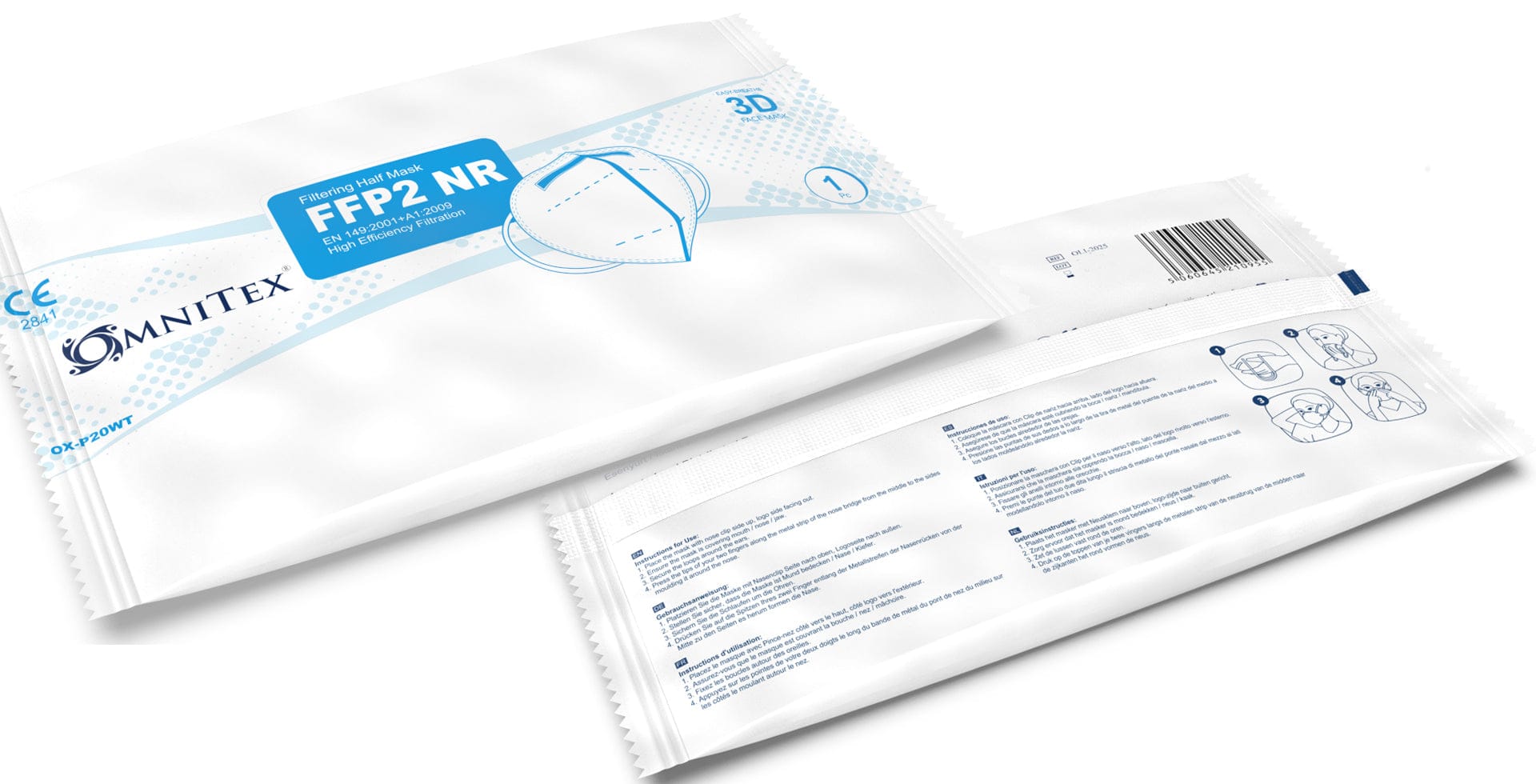 Omnitex Face Mask FFP2 – White
Sale price

£8.45
Regular price
(/)
Tax included.
Select desired quantity below.
AUTHORISED DISTRIBUTOR stocking trusted brands only
FREE EXPRESS DELIVERY on orders over £40
SAME DAY DISPATCH on orders before 2pm Monday - Friday excluding bank holidays.
Shipping & Delivery

We offer a fast and reliable 24-hour Next Working Day Royal Mail tracked service.

Shipping Costs:
Orders under £40: £3.99
Orders over £40: Free Shipping


Dispatch Days: We dispatch orders from Monday to Friday, except on Bank Holidays.

Order Cut-off: To ensure Next Working Day Delivery, please place your order by 2 pm from Monday to Friday.

Please note that our shipping services are currently available only for mainland UK.
Returns & Refunds

If you are not entirely satisfied with your purchase, we're here to help.

Our products can be returned within 30 days of the original purchase of the product.

To be eligible for a return, please make sure that:

The product was purchased in the last 30 days
The product is in its original packaging
The product isn't used or damaged


PLEASE NOTE WE DO NOT ACCEPT RETURNS OF COVID TEST KITS.
Omnitex FFP2 White Masks
FFP2 Standards Reinvented
Omnitex FFP2 White Masks adhere to rigorous FFP2 standards, guaranteeing a minimum of 94% particle filtration efficiency. This commitment to excellence is fundamental in combating a spectrum of respiratory hazards.
Crystalline White Elegance
The masks boast a crystalline white design, elevating protection to a new level of sophistication. Beyond functionality, Omnitex FFP2 White Masks make a subtle yet powerful statement in the realm of personal protective equipment.
Comfort Redefined
Crafted with user comfort in mind, these masks feature an ergonomic design. The adjustable nose clip and elastic ear loops ensure a secure and comfortable fit for extended wear. The multi-layered design strikes a delicate balance between breathability and efficient filtration.
Features That Define Omnitex Excellence
Immaculate Design
Omnitex FFP2 White Masks go beyond the ordinary. The immaculate white design is not just an aesthetic choice but a symbol of purity in protection. Embrace a mask that seamlessly integrates into your daily routine with style and grace.
Cutting-Edge Filtration Technology
Dive into the technology that propels Omnitex FFP2 White Masks to the forefront of respiratory protection. The masks utilise cutting-edge filtration materials, ensuring that even the smallest particles are effectively captured, providing a robust shield against respiratory threats.
Practicality Meets Performance
Functionality is key, and Omnitex ensures practicality in use. The masks are designed for ease of application and removal, accompanied by clear instructions. This user-centric approach is pivotal in promoting consistent and proper mask usage.
Why Opt for Omnitex FFP2 White Masks?
Timeless Elegance
Omnitex FFP2 White Masks redefine elegance in protective gear. The timeless white hue transcends trends, making these masks a classic choice that reflects both style and responsibility.
Uncompromising Protection
By choosing Omnitex, you choose a standard of protection that goes beyond expectations. These masks are a testament to unwavering dedication to user safety, ensuring you face the world with confidence and security.
Conclusion
In conclusion, Omnitex FFP2 White Masks stand as a symbol of purity, elegance, and uncompromising protection. Elevate your respiratory defence with a mask that transcends the ordinary—choose Omnitex FFP2 White Masks for a safeguarded and sophisticated lifestyle.
Elevate your protection. Choose Omnitex FFP2 White Masks today.
Choose options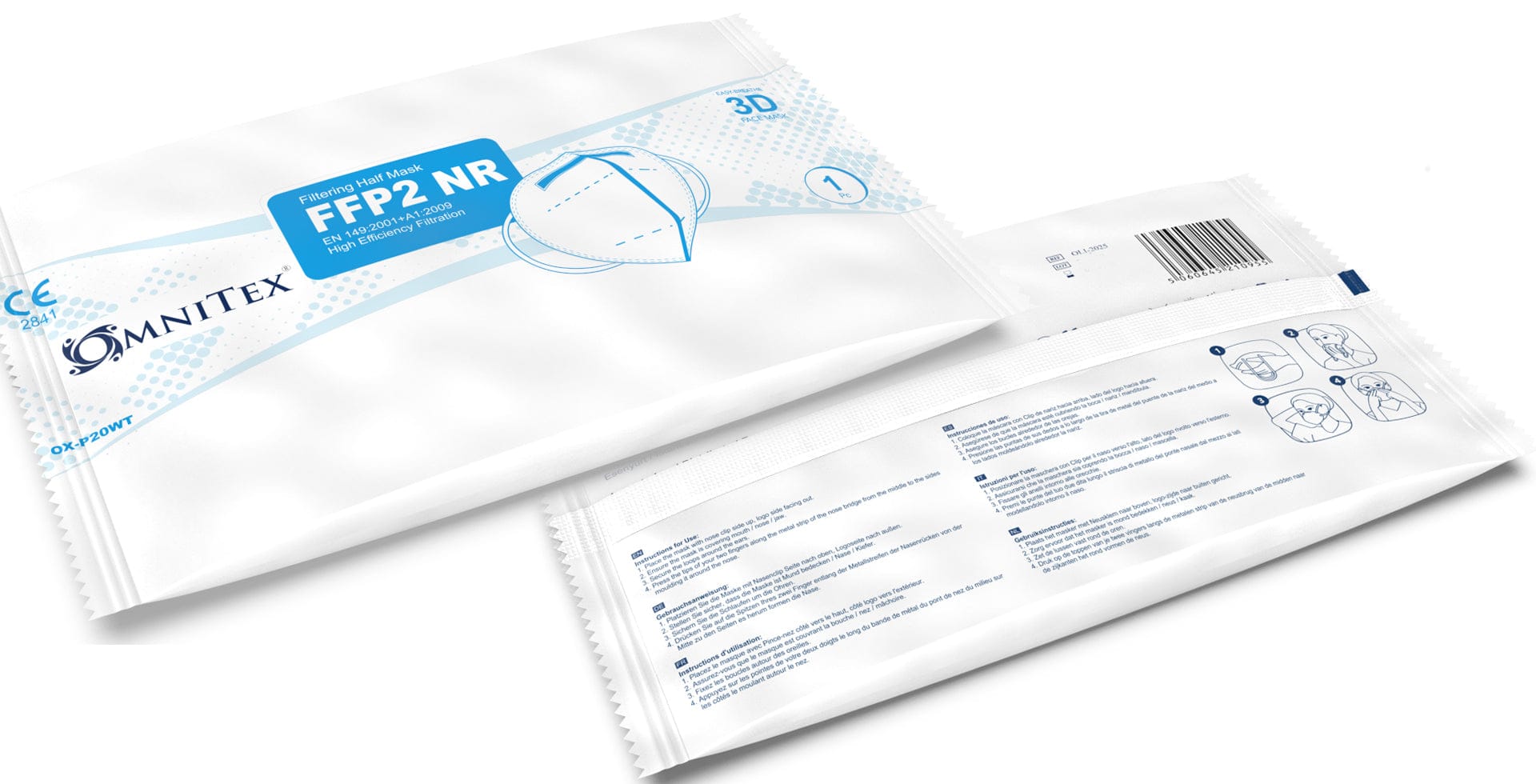 Masks individually wrapped.
Arrived quickly. Pleased to see masks were individually wrapped in the box.
Omnitex Face Mask FFP2 – White
Thumbs Up For Such a Discounted Price on High Protection Face Masks!
Really satisfied to be able to order a box of 20 white Omnitex FFP2 cutting-edge top quality facemasks for just £8.45!
Box of 20 (FFP2 STANDARD) PREMIUM QUALITY OMNITEX FACE MASKS
I came to this this professional supplier because it is an authorised dealer, and there are so many counterfeits and poor quality replicas for sale all over the internet.
There's a choice of colours, although I have to wear white face masks for my work. These Omnitex FFP2 face masks are certified as CE and EN149 compliant. I like the fact that they're individually wrapped, so I can keep a couple of spare ones in my bag or pocket.
These superior masks boast 5 layers of high density filtration which give well over 98 percent filtration, which is far higher than other masks on the market), and they also have an integrated plastic covered metal nose bridge.
I must have tried 6 or 7 other types of face masks, but none of them were this standard, and this one ticks all the boxes for comfort, breathability, and use-ability.
Finally, I'm, sorted, and don't have to look around or test out any more face masks. For £8.45 including VAT for 20 Omnitex masks, I'll be coming back to this company
HIGH QUALITY OMNITEX FACE MASK FFP2 IN WHITE
I wanted an official UK-based Omnitex distributor, as I needed to order in some genuine FFP2 White Masks for my new temporary job dealing with the general public in a medical setting. Glad to get a 20 mask pack for just £8.45 from covidtests.co.uk. The protective filtration is excellent, plus I can only wear a mask with an adjustable nose clip and elastic ear loops, so this model fits the bill.