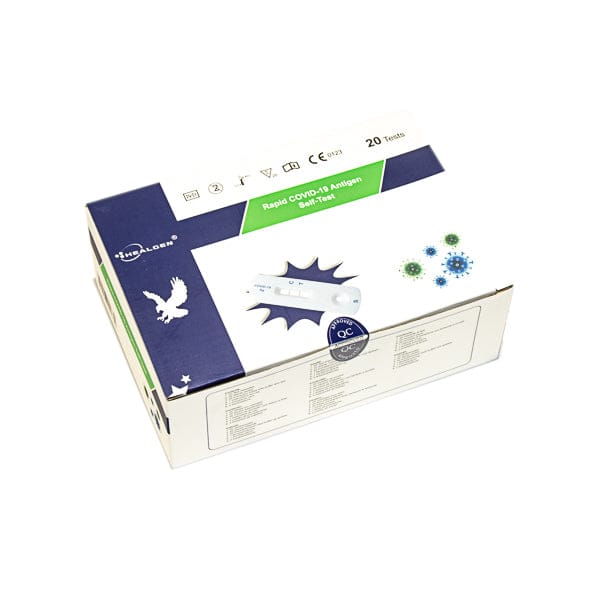 Save 60%
Healgen Lateral Flow Covid Self-Tests 20 Pack
Sale price

£9.99
Regular price

£24.99
(/)
Tax included.
Select desired quantity below.
AUTHORISED DISTRIBUTOR stocking trusted brands only
FREE EXPRESS DELIVERY on orders over £40
SAME DAY DISPATCH on orders before 2pm Monday - Friday excluding bank holidays.
Shipping & Delivery

We offer a fast and reliable 24-hour Next Working Day Royal Mail tracked service.

Shipping Costs:
Orders under £40: £3.99
Orders over £40: Free Shipping


Dispatch Days: We dispatch orders from Monday to Friday, except on Bank Holidays.

Order Cut-off: To ensure Next Working Day Delivery, please place your order by 2 pm from Monday to Friday.

Please note that our shipping services are currently available only for mainland UK.
Returns & Refunds

If you are not entirely satisfied with your purchase, we're here to help.

Our products can be returned within 30 days of the original purchase of the product.

To be eligible for a return, please make sure that:

The product was purchased in the last 30 days
The product is in its original packaging
The product isn't used or damaged


PLEASE NOTE WE DO NOT ACCEPT RETURNS OF COVID TEST KITS.
CURRENT STOCK EXPIRY DATE: January 2024
Rapid COVID tests are commonly used nowadays to detect COVID-19 quickly and efficiently. This box of 20 lateral flow COVID-19 tests gives you results in around 10-15 minutes average time, which is relatively faster than other tests. Using it is also straightforward, as they provide detailed instructions to help you get accurate results. The Healgen test is one of the most reliable COVID tests available. It can detect nucleocapsid protein antigens from SARS-CoV-2 from direct nasal swab specimens.
The box of 20 lateral flow tests is perfect for people who begin to show symptoms in the first seven to ten days.
Why Choose Healgen?
Healgen comes with some advantages, the first being that the box of 20 Healgen lateral flow tests is UK approved for self-testing, and you get accurate results in just 15 minutes. You also don't need instruments or any extra equipment. It is also a less invasive testing method compared to a nasopharyngeal swab. You only need to insert about 2 cm of the swab tip. 
When you get the Healgen one test kit, you should expect the following components in the packaging:
Sterile swabs

Extraction tubes

Test cassettes

Dropper Tips

Buffers

Package insert

Workstation
How It Works
When collecting the specimen, insert the swab in the patient's nostril and push it about 2 to 3 cm up until you feel some resistance. You then have to roll the swab around five times and ensure it touches the walls. You will repeat the same process for the other nostril too. Finally, remove the swab from the nostrils.
When preparing the sample, insert the extraction tube in the hole marked on the kit. Remove the sealing film on the extraction tube gently to avoid spilling the liquid. Next, put the swab in the extraction tube that has 0.3 mL of the extraction buffer. Press the head of the swab against the side and bottom of the extraction tube while rolling the swab. Leave the swab for about a minute, squeeze the tube from the outside to ensure it immerses the swab, and then remove it. Finally, insert the tip into the extraction tube.
Interpreting the Results
If the line is on the C, the result is negative, which means the absence of the SARS-CoV-2 infection. However, it is best to attempt to retake the test after a couple of days, as the virus is not always detectable in all phases. 
A line on both the control and test line (C and T) indicates that the result is positive, which means the SARS-Cov-2 virus has been detected. The line can sometimes be faint, but the result will still be positive. Should this be the case for you, you should reach out to a medical professional as quickly as possible. In addition, you may take a PCR test to confirm the results at your local health facility. PCR tests are usually more accurate and reliable, but they take longer and are mostly conducted in health facilities by medical professionals.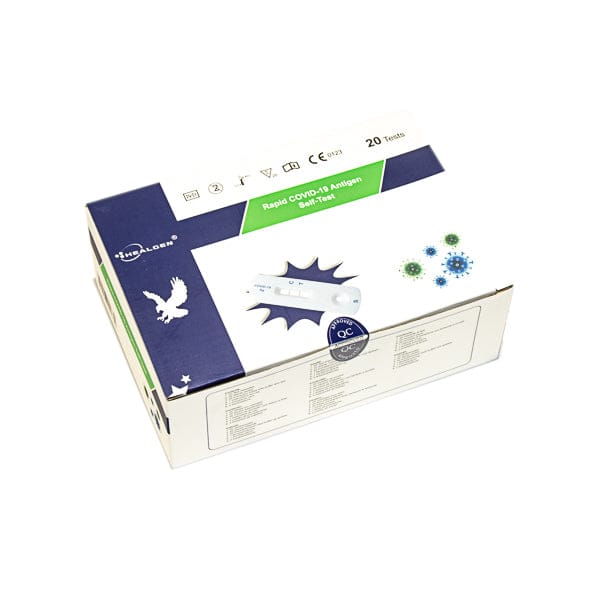 Healgen Lateral Flow Covid Self-Tests 20 Pack
Sale price

£9.99
Regular price

£24.99
Choose options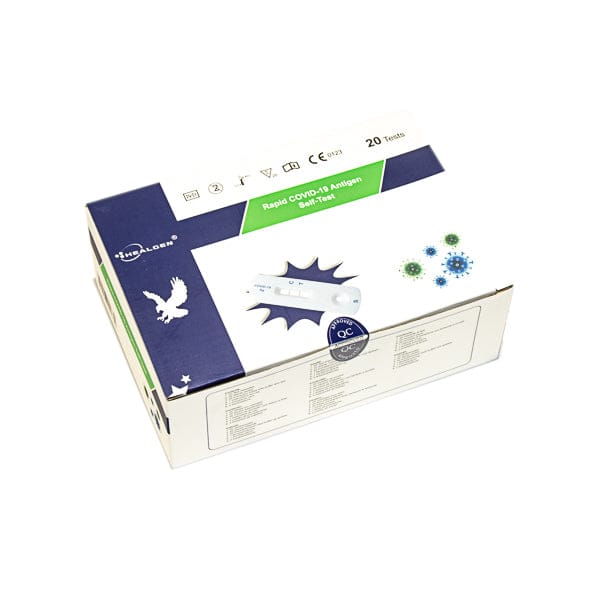 Sale price

£9.99
Regular price

£24.99
(/)
Tax included.
View details
Very short Use By dates
The test arrived very quickly but all only had a two-month Use By date
Very short shelf time.
Bought these in November 2023, expires January 2024. I wouldn't have bought these if I had known. I'm hoping I won't need all 20 in two months.
Kudos to the Customer Service Team at covidtests.co.uk
Thanks very much to Covid Tests UK's customer service desk and the Professional Product Advisors at this company. I was in a real quandary as to which type of covid self test kits I needed to order as per my manager's instructions. - I had no idea which professionally recommended instant results covid tests could be administered by a member of our HR team, as my manager wanted them done in the workplace, and was vehemently opposed to having to bring in a nurse, and send the tests off to a lab.
The Covid Tests UK team were available to speak to during office hours (including the lunch period), and this really saved me! The last two websites I had looked at (and wasted over 25 minutes on), didn't even have a chat line, let alone a phone number to call and get through to a professional almost instantaneously. I was tasked with placing a big order for British and CE-approved highly accurate, premium grade self-test covid tests, but I really had to idea where to start. Thanks again to the UK-approved official Healgen provider, England-based, covidtests.co.uk - I will be periodically ordering regular batches of 1000 Healgen Lateral Flow Covid Self-Tests as and when required.
Saved £16 on a Multiple Purchase Plus a Further 10 Percent Off and Free Delivery
Just want to thank covidtests.co.uk for making ordering easy, sending out my goods right away and for free; and offering buyers a good discount on multiple purchases. (Mine were the Healgen Lateral Flow Covid Self-Tests 20 Pack; Flowflex Covid Self-Tests 25 Pack, and 20 Black FFP2 Omnitex Face Masks); along with an extra ten percent off for being a new client. I will definitely recommend you
Reduced Price and Free Postage Healgen COVID Self Testing Kits
Several months ago I ordered a large economy pack of premium quality Omnitex FFP2 Face Masks from covid tests uk. But this time I ordered three reduced price packs of 20 Healgen Lateral Flow tests kits, for the special price of £19.99 (inclusive of tax). They were sent out right away, and the delivery was FREE! I will definitely be making repeat orders